You know how you come home from a store, all excited about the newest product you bought, only to battle with the packaging for EVER before you can get the shiny new product out???
That really makes me crazy. And I am always cutting myself on that hard plastic packaging.
We have even destroyed our new purchase in the past, trying to break into the packaging that surrounded it!
Thankfully, the kind folks at Zip-It Opener have created a solution to this problem!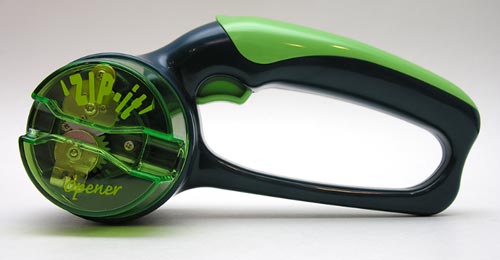 The Zip-It Opener was created by
Steve Fisher
, who saw the need to a solution to this problem. He would make trips to visit his mother, only to find a towering stack of bubble packs waiting to be opened.
These bubble packs aren't just impossible for Seniors and Children to open, they are a nightmare!
But with the Zip-It Opener... believe it or not... they are ENJOYABLE to open!
The Zip-It Opener works much like an electric can opener. It requires two AA batteries, and the push of your finger on the trigger to make it start. Then, you simply guide the Zip-It Opener along the side of the packaging, until it is open!
Watch this demonstration video!
You can BUY a Zip-It Opener
HERE
for only $19.95!
Or, you can WIN a Zip-It Opener by entering below!!
To enter, please do any or all of the following items. The "Mandatory" item(s) must be completed before getting any additional credits from the "Optional for Extra Credit" section.
Mandatory:
• Visit the
Zip-It Opener site
by clicking
HERE
, and leave a comment (BE SURE to include your email address in case you win!! Sometimes, people never get their prize, because I can't find their email address!!) telling me what you love the most!
Optional for Extra Credit:
• Subscribe to this blog
HERE
, and comment that you do.
• Follow this blog
HERE
, and comment that you do.
• Post about this giveaway on your blog, and comment with a link to the post!
• Digg this post by clicking
HERE
!
• Become a fan of this blog on Facebook by clicking
HERE
, and comment that you do.
• Follow me on Twitter
HERE
and Tweet this: "I am trying to win a Zip-It Opener on @vaagen's review site at www.MingleOverMocha.com!" Comment below that you did! You can retweet this contest every day for extra entries- simply leave a comment each time you tweet!
The winner will be chosen by random drawing on http://www.random.org/integers/ on Saturday, May 8th at 6pm... Just in time for MOTHER'S DAY!! Good luck!
Thank you to Zip-It Opener for donating the free digital frames for my review!! I was not compensated monetarily for this review, or for any reviews or giveaways on my blog site. All reviews are provided after I receive a free or donated product from the publisher, manufacturer, or PR company. Reviews are written from an unbiased point of view. Only business relationships exist with those who provide products for review. The Author of Mingle Over Mocha is not responsible for your difference in opinion or happiness with this product, or your safety when using this product.